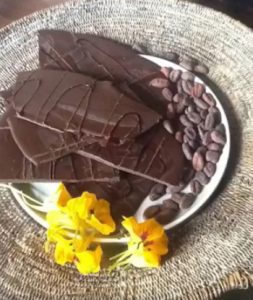 Looking for a last minute Christmas present?
Its 11.00 pm & I've just finished making another batch of luscious raw dark chocolate with our dehydrated wild mango.
Blossom Honeys if you're looking for something a little special. We still have jars of our rare Black Jungle, Coffee Blossom, Mango Blossom and Soursop.
Find these and other treats at our Store at PLANT 4 Bowden.
Oh … I roasted some more of our organic Kintamani coffee this arvo as well. Buy some nice beans in a pouch or we'll put it through our superb Sanremo Opera espresso machine and present it in a cup!

Best wishes for the festive season, Beach Organics