Businesses and individuals can make conscious efforts to be more environmentally sustainable. Agricultural practices are often less palatable than we think. They often strip minerals from the soil and destroy valuable habitats!
Good farming practices which "enrobe" carbon and provide safe havens for bioremediation, abide by careful crop rotation practices, plant trees etc help expedite this.
In 1984 and in my 20's I decided to adopt a pro active approach and establish our own certified organic permaculture farm near Pt Elliot. Almost 35 years on, this produces most of our fresh Produce for our plant based menu at our Store at PLANT Bowden.

The freshest and nutrient rich bounty straight from our gardens to your plate. Thai basil, kale, tomatoes, potatoes, radishes, mizuanna, garlic chives, spinach, red cabbage, beetroot and crunchy carrots, mint, kafir lime leaves all picked this morning and ready for our customers plates this evening!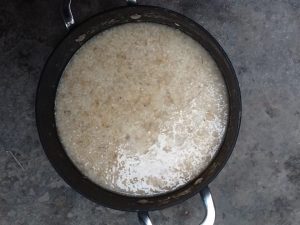 Oh … and I've always been interested in traditional fermentation techniques. And voila … I've mixed organic Koji rice with aspergillosis oryzae, allowed it to ferment for 14 hrs at 60 C and we have our first batch of pro biotic rich amaztake.
We'll put our creative hats on and think of ways to incorporate it into our weekend menu! Swing past for a taste!